MDFC
Modular Difference Frequency Comb for 19" rack integration
Compact design
Highly robust operation
High-end stability transfer down to the 10-21 level
Convenient remote control from a single GUI
Spectral coverage 420 - 2000 nm
TOPTICA's frequency comb product line uses our proprietary CERO-technology which is based on Difference Frequency Generation (DFG). It is inherently fCEO-stable and combines high robustness, high-end performance and a convenient user interface in a compact footprint.
Like all building blocks of TOPTICA's Laser Rack Systems, the MDFC is designed to clear optical tables and to stow away laser systems into a 19" form factor. It is ideally suited for integration into TOPTICA Laser Rack Systems and helps researchers to focus on their experiment rather than on their laser system.
For maximum user convenience, the MDFC is controlled from a single user-interface. Any of TOPTICA's tunable diode lasers with a wavelength between 420 nm and 2000 nm can be locked to the frequency comb. Frequency-doubled lasers with shorter wavelengths can be stabilized using their fundamental.
The MDFC perfectly integrates with TOPTICA's modular laser systems and wavelength meters, enabling users to source a complete stabilized and rack-mounted laser system solution from a single supplier.
Compact | Robust | High-end | Convenient
Compact
Fully self-referenced comb including electronics
19 inch compatible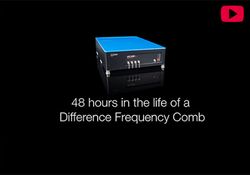 Robust
High-end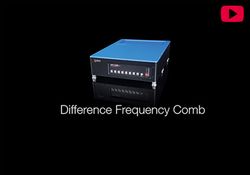 Convenient
MDFC System Components

Wavelength 1560 nm
All electronics included
4 or 8 offset-free outputs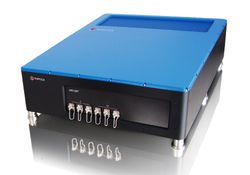 Between 420 - 2000 nm
Lock any TOPTICA Laser
Robust
Upgradeable
Stable
Compact
Flexible
Fiber coupled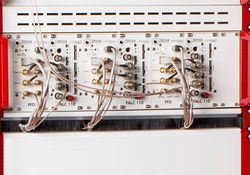 Phase frequency lock DL pro to DFC
Phase frequency lock to optical reference