Picosecond / Femtosecond Fiber Lasers
Next generation ultrafast fiber lasers for science and industry
Ultrafast technology has seen an unpredictable success ever since it was introduced. Many promising applications have emerged benefiting mainly from the high peak power and ultrashort pulse duration which give rise to nonlinear effects and open new paths in engineering and scientific research. The key for successful integration of ultrafast technology are robust, cost-effective systems with simple push-button operation.
TOPTICA offers several products fulfilling these requirements: ultrafast fiber lasers based on Erbium (Er) and Ytterbium (Yb) like the FemtoFiber smart, FemtoFiber ultra and FemtoFiber dichro series. All these systems are based on TOPTICA FemtoFiber technology.
TOPTICA's FemtoFiber lasers provide reliable femtosecond / picoseconds pulses based on polarization-maintaining fibers and SAM mode-locking. Different models (1560/780 nm, VIS/NIR tunable output, IR/NIR supercontinuum, short-pulse) cover a wide range of applications, e.g. non-linear microscopy, two-photon polymerization, time-domain Terahertz, attoscience, and as seed lasers.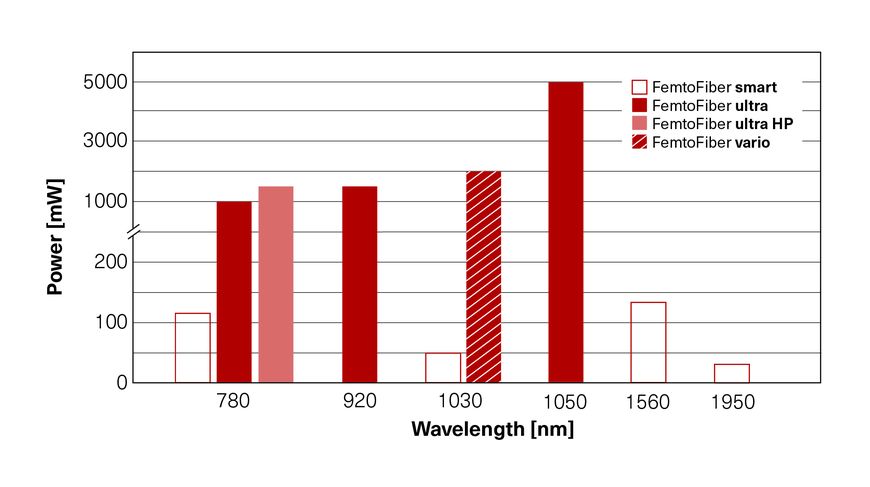 SAM mode-locked all PM fiber setup
User friendly turnkey operation
Robust and reliable, compact design
Optics and electronics in just one box
12V DC power supply with lowest power consumption
| | | | | |
| --- | --- | --- | --- | --- |
| | Wavelength | Pulse duration | Average output power | Repetition rate |
| FemtoFiber smart 780 | 783 nm ± 5 nm | < 100 fs (typ. 85 fs) | >120 mW (typ. 120 - 140 mW) | 80 ± 1 MHz |
| FemtoFYb 1030-400 | 1030.5 ± 1.5 nm | < 2 ps (chirped output) compressible to < 400 fs | > 0.5 mW | 30 ± 0.5 MHz |
| FemtoFYb 1030-800 | 1030.5 ± 1.5 nm | < 800 fs (fourier-limited output) | > 0.5 mW | 20 ± 0.5 MHz |
| PicoFYb 1030 | 1030.5 ± 0.5 nm | typ. 6.5 ± 1 ps | > 20 (typ. 25) mW | 30 ± 0.5 MHz |
| PicoFYb 1064 | 1064.3 ± 0.5 nm | typ. 5.5 ± 1 ps | > 50 mW | 20 ± 0.5 MHz |
| FemtoFErb 1560 | 1560 ± 10 nm | < 80 fs (typ. 50 fs) | > 120 mW (typ. 140 mW) | 100 MHz (standard, other on request) |
| FemtoFErb 1560 FD6.5 | 1560 ± 10 nm | < 60 fs (typ. 50 fs) | > 80 mW (typ. 90 mW) | 100 MHz (standard, other on request) |
| FemtoFErb 1950 | 1950 ± 10 nm | typ. 100 fs | > 30 mW | 30 MHz |
High-power fiber amplifier
Polarization maintaining fibers only
Compact air-cooled systems

| | | | | |
| --- | --- | --- | --- | --- |
| | Wavelength | Pulse duration | Average output power | Repetition rate |
| | 780 nm | < 150 fs | > 1 W | 80 MHz |
| | 920 nm | < 100 fs | > 1.5 W | 80 MHz |
| | 1050 nm | < 100 fs | > 5 W | 80 MHz |
Versatile micro-Joule fiber laser
Superior temporal and spatial beam quality
Adjustable repetition rate
Pulse on demand
Continously adjustable pulse duration
Industrial grade, compact design
Passively-cooled, detachable laser head
Robust and reliable, all-PM fiber setup
Turnkey system, compact footprint
Two colors
Synchronized pulses
SAM mode-locked
PM fiber based
Wavelength
Pulse duration
Average output power
Repetition rate
FemtoFiber dichro midIR
5 - 15 µm,
20 - 60 THz,
670 - 2000 cm-1 (tuning range)
---
typ. 1 mW
80 MHz
Multi-color
Multi-purpose
Synchronized pulses
SAM mode-locked