New Lasers for Quantum Applications
Discover our innovations at the 25th LASER World of PHOTONICS and World of QUANTUM.
Using state-of-the-art diode-laser-based technology, TOPTICA is a key enabler for quantum optics and spectroscopy. TOPTICA will display their latest laser systems for scientific and industrial applications at LASER World of PHOTONICS in Munich from April 26–29, 2022 at Messe München. Dedicated laser solutions for Quantum technology will be shown also at the WORLD of QUANTUM, visit our satellite booth in hall A4.171.
With this press release we present our Quantum Technology highlights of this year's LASER World of PHOTONICS. More live demos for biophotonics and material processing applications will be represented at our booth B5.103
Frequency Comb Solutions: Stabilize your optical frequencies
TOPTICA offers complete laser system solutions for your quantum application, all from a single source. They include an optical difference frequency comb, any desired wavelength extension, beat units, stabilization electronics, wavelength meters, and multiple laser systems locked to the comb. Contact us for your customized solution. You want a frequency comb with even more power per comb tooth and a larger frequency spacing? This is what you get with the 200 MHz variant of TOPTICA's difference frequency comb, the DFC CORE 200 +. It has proven to be robust and reliable.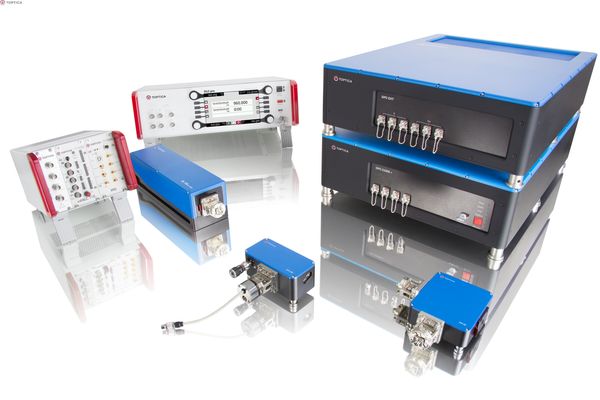 Image: TOPTICA's Difference Frequency Comb (DFC) is robust, high-end, 19"-rack integrable and can be operated remotely from a single window.
Frequency-Converted Lasers at any wavelength between 205 nm and 4000 nm
Via second or fourth harmonic generation, our Frequency-Converted Lasers can access the deep UV to red spectral ranges. Now with higher powers in the visible for standard systems (e.g. 2 W at 556 nm) and in the UV for our fiber amplified systems (e.g. 3W at 317 nm).
Laser Rack Systems for Quantum Technology 2.0 Applications
Today's quantum applications of high-end laser systems are increasingly complex, demand short time to market and require full application focus. Moreover, lab space often is constrained, and flexible laser system availability is needed. TOPTICA addresses all these demands with a new product family, the highly modular 19" T-RACK Laser Rack Systems.
Tunable Diode Lasers not only for quantum technologies
Our popular tunable diode lasers and frequency-converted lasers are available with an intra-cavity EOM now. Together with FALC pro, the fastest available PI³D², DL pro F's high modulation bandwidth enables locking to narrowest linewidth and lowest phase noise.
CTL – Continuously Tunable Laser between 880 nm and 1630 nm
Our family of Continuously Tunable Lasers CTL has a new member: CTL 900 extends the wavelength range down to 880 nm (up to 1630 nm) and is ideal for resonantly exciting quantum dots.
DLC pro: All-digital controller for tunable diode lasers
The DLC pro platform driving all tunable diode lasers of TOPTICA offers two new features: the MOTOR pro option for motorized wavelength selection and the AutoPID wizard for frequency locking with automatically optimized PID parameters.
TOPTICA Application Panels, Poster Sessions, and Networking Events
Meet our colleagues in hall A4.171 at the World of QUANTUM! With the premiere of the World of QUANTUM, Messe München will explore the most exciting field of the future in photonics: quantum technology and its potential applications in areas including computing and cryptography, sensing and imaging, communications, and medicine.
Do you know all about quantum technology? Play the quiz at our booth in hall A4.171 and win Schroedinger's cat (maybe)…
More live demos can be expected at our booth in hall B5.103. To learn more about these or any other products that TOPTICA has to offer, we encourage you to visit our booth and challenge us with your application – at any wavelength!
We look forward to your visit!
Would you like personal advice and to make an appointment in advance? With pleasure! Please simply fill out the free guest ticket form or contact us at +49 89 85837-0. We are already looking forward to your questions and to stimulating discussions.